LUOS's successful 'can do' and 'by the community – for the community' approach has secured funding and commissions to deliver a wide range of innovative community empowerment projects and services – responding to key community needs and aspirations.  
In our projects we purposefully recruit, train and support unemployed or underemployed local residents who are paid above the London Living Wage. We also create pathways to employment by training and supporting volunteers.  Past project and activities have included Well Park Lane, Home from Hospital, Neighbourhood Connect, Collective Switching, Personal Travel Planning and Blooming Beds and Bees.  See our Past Projects page for more information. Projects and free activities this year at our LUOS Community Hub included:
– LUOS Dance & Well being project
– Eco Arts & Crafts
– Football
– Basketball & Multi-Sport
– Women's Sew For Future Sewing Project
– Fuel Poverty course
– Digital Inclusion
– People Needs Parks project
– School Holidays activities
For further information about these activities, please email us at info@livingunderonesun.co.uk
---
Current activities and events
Our weekly Winter activities programme sees us running activities at our Community Hub every Monday, Wednesday and Saturday.  Including:
– FREE Walking Group
– FREE Women's running group +16yr 
– FREE Yoga
– FREE Cycle Training & Dr Bike
– FREE Gardening & Food Growing
---
Cycling and Dr Bike
Every Saturday 11am until 1pm at the Community Hub.  Free cycle training for local residents of all ages (under 18s must be accompanied by an adult).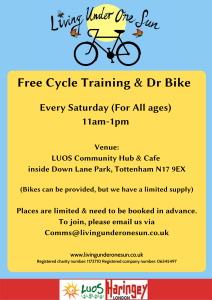 ---
Yoga
Every Monday 11am until 12 at the Community Hub
---
Running Group
Every Saturday 9am until 10am at the Community Hub
---
Walking Group
Our new Walk Group starts on Weds 19th Jan from 9.15am – 10.30am
---
Gardening & Food Growing
Every Wednesday 9.30am – 2pm and Saturday 9.30am – 1.30pm
Volunteer
in our garden us
t
o learn green skills and meet local people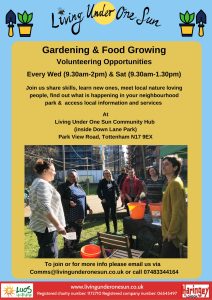 ---
Other projects at Living Under One Sun
Sewing course
The sewing course is free but only for local residents living in Tottenham.
ESOL classes
We're not running classes at the moment, but if interested please email us and we will contact you when we restart the classes.
For more info please email info@livingunderonesun.co.uk
---
Suggest a project to us
We're always interested in hearing your suggestions!
Ideally you would have thought about:
What skills will you offer?
Do you know people already who would join this activity and how many should join?
Will you require funding or not?
Where will you advertise it (we will help by posting it on our website and social media)?
Get in touch: info@livingunderonesun.co.uk